Abdominoplasty
Overview
A tummy tuck — also known as abdominoplasty — is a cosmetic surgical procedure to improve the shape and appearance of the abdomen.
During a tummy tuck, excess skin and fat are removed from the abdomen. Connective tissue in the abdomen (fascia) usually is tightened with sutures as well. The remaining skin is then repositioned to create a more toned look.
You might choose to have a abdominoplasty if you have excess fat or skin around the area of your bellybutton or a weak lower abdominal wall. A tummy tuck can also boost your body image.
Why it's done
There are a number of reasons you might have excess fat, poor elasticity of the skin or weakened connective tissue in your abdomen. These include:
Significant changes in weight

Pregnancy

Abdominal surgery, such as a C-section

Aging

Your natural body type
A tummy tuck can remove loose, excess skin and fat, and tighten weak fascia. A tummy tuck may also remove stretch marks and excess skin in the lower abdomen below the bellybutton. However, a tummy tuck won't correct stretch marks outside of this area.
If you've previously had a C-section, your plastic surgeon might be able to incorporate your existing C-section scar into your tummy tuck scar.
A tummy tuck can also be done in combination with other body contouring cosmetic procedures, such as breast surgery. If you've had fat removed from your abdomen (liposuction), you may decide to have a tummy tuck because liposuction removes tissue just under the skin and fat but not any excess skin.
A tummy tuck isn't for everyone. Your doctor might caution against a tummy tuck if you:
Plan to lose a significant amount of weight

Might consider pregnancy in the future

Have a severe chronic condition, such as heart disease or diabetes

Have a body mass index that's greater than 30

Smoke

Have had a previous abdominal surgery that caused significant scar tissue
General information
Anesthesia:   General anesthesia
Hospital stay: 1 day
Duration of operation: 2 hours
Minimum Stay: 5 days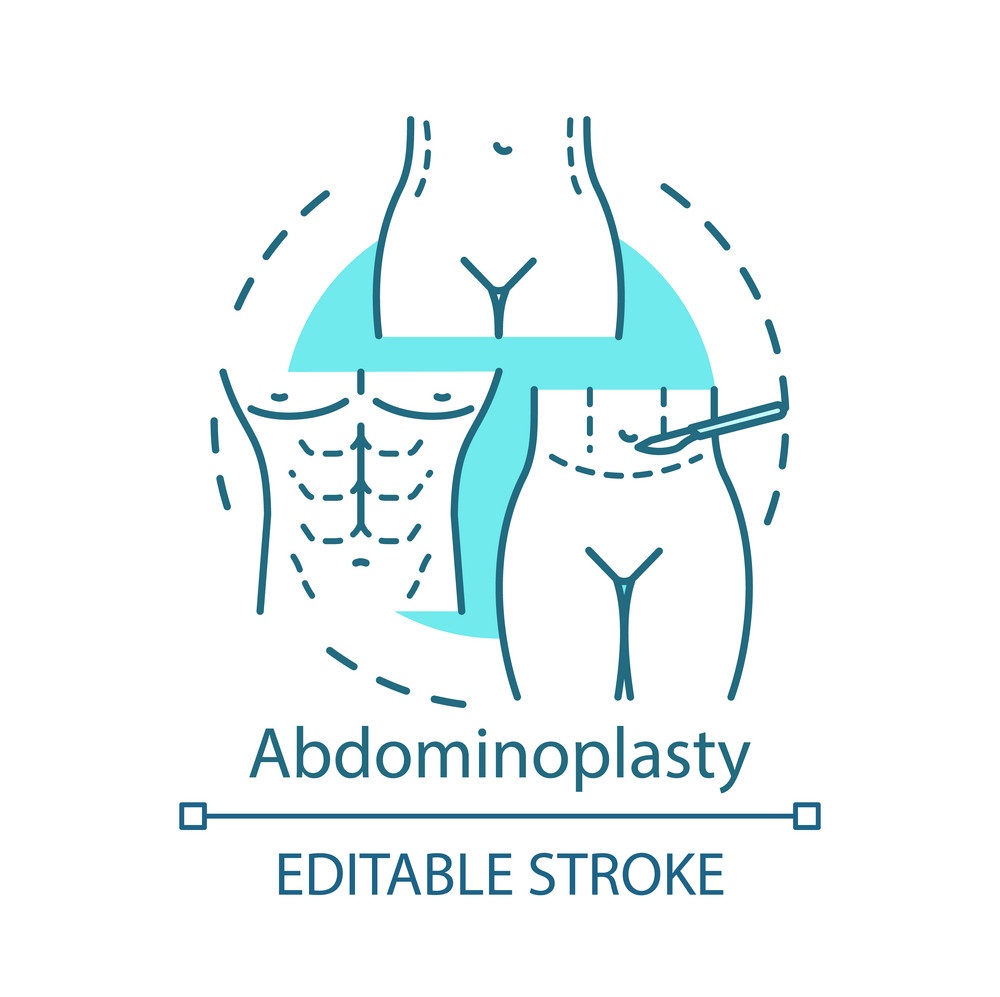 Rhinoplasty
Overview
Rhinoplasty (RIE-no-plas-tee) is surgery that changes the shape of the nose. The motivation for rhinoplasty may be to change the appearance of the nose, improve breathing or both.
The upper portion of the structure of the nose is bone, and the lower portion is cartilage. Rhinoplasty can change bone, cartilage, skin or all three. Talk with your surgeon about whether rhinoplasty is appropriate for you and what it can achieve.
When planning rhinoplasty, your surgeon will consider your other facial features, the skin on your nose and what you would like to change. If you're a candidate for surgery, your surgeon will develop a customized plan for you.
Sometimes part or all of a rhinoplasty is covered by insurance
Why it's done
Rhinoplasty can change the size, shape or proportions of your nose. It may be done to repair deformities from an injury, correct a birth defect or improve some breathing difficulties.
How you prepare
Before scheduling rhinoplasty, you must meet with your surgeon to discuss important factors that determine whether the surgery is likely to work well for you. This meeting generally includes:
Your medical history. The most important question your doctor will ask you is about your motivation for surgery and your goals. Your doctor will also ask questions about your medical history — including a history of nasal obstruction, surgeries and any medications you take. If you have a bleeding disorder, such as hemophilia, you may not be a candidate for rhinoplasty.
A physical exam. Your doctor will conduct a complete physical examination, including any laboratory tests, such as blood tests. He or she also will examine your facial features and the inside and outside of your nose. The physical exam helps your doctor determine what changes need to be made and how your physical features, such as the thickness of your skin or the strength of the cartilage at the end of your nose, may affect your results. The physical exam is also critical for determining the impact of rhinoplasty on your breathing.
Photographs. Someone from your doctor's office will take photographs of your nose from different angles. Your surgeon may use computer software to manipulate the photos to show you what kinds of results are possible. Your doctor will use these photos for before-and-after assessments, reference during surgery and long-term reviews. Most importantly, the photos permit a specific discussion about the goals of surgery.
A discussion of your expectations. You and your doctor should talk about your motivations and expectations. He or she will explain what rhinoplasty can and can't do for you and what your results might be. It's normal to feel a little self-conscious discussing your appearance, but it's very important that you're open with your surgeon about your desires and goals for surgery.
If you have a small chin, your surgeon may speak with you about performing a surgery to augment your chin. This is because a small chin will create the illusion of a larger nose. It's not required to have chin surgery in those circumstances, but it may better balance the facial profile.
Once the surgery is scheduled, you'll need to arrange for someone to drive you home if you're having an outpatient surgery.
For the first few days after anesthesia, you may have memory lapses, slowed reaction time and impaired judgment. So arrange for a family member or friend to stay with you a night or two to help with personal care tasks as you recover from surge
General information
Anesthesia:   General anesthesia

Hospital stay: 1 day

Duration of operation: 2 hours

Minimum Stay: 10 days
Cholecystectomy
Overview
A cholecystectomy (koh-luh-sis-TEK-tuh-me) is a surgical procedure to remove your gallbladder — a pear-shaped organ that sits just below your liver on the upper right side of your abdomen. Your gallbladder collects and stores bile — a digestive fluid produced in your liver.
A cholecystectomy is a common surgery, and it carries only a small risk of complications. In most cases, you can go home the same day of your cholecystectomy.
A cholecystectomy is most commonly performed by inserting a tiny video camera and special surgical tools through four small incisions to see inside your abdomen and remove the gallbladder. Doctors call this a laparoscopic cholecystectomy.
In some cases, one large incision may be used to remove the gallbladder. This is called an open cholecystectomy.
Why it's done?
A cholecystectomy is most commonly performed to treat gallstones and the complications they cause. Your doctor may recommend a cholecystectomy if you have:
Gallstones in the gallbladder (cholelithiasis)

Gallstones in the bile duct (choledocholithiasis)

Gallbladder inflammation (cholecystitis)

Large gallbladder polyps

Pancreas inflammation (pancreatitis) due to gallstones
Food and medications
To prepare for a cholecystectomy, your surgeon may ask you to:
Eat nothing the night before your surgery. You may drink a sip of water with your medications, but avoid eating and drinking at least four hours before your surgery.
Stop taking certain medications and supplements. Tell your doctor about all the medications and supplements you take. Continue taking most medications as prescribed. Your doctor may ask you to stop taking certain medications and supplements because they may increase your risk of bleeding.
General information
Cost: 1100 – 1400

Anesthesia: General anesthesia

Hospital stay: 2 day

Duration of operation: 2 hours

Minimum Stay: 7 days
For more information click on the link bellow.
Mastectomy
Overview
A mastectomy is surgery to remove all breast tissue from a breast as a way to treat or prevent breast cancer.
For those with early-stage breast cancer, a mastectomy may be one treatment option. Breast-conserving surgery (lumpectomy), in which only the tumor is removed from the breast, may be another option.
Deciding between a mastectomy and lumpectomy can be difficult. Both procedures are equally effective for preventing a recurrence of breast cancer. But a lumpectomy isn't an option for everyone with breast cancer, and others prefer to undergo a mastectomy.
Newer mastectomy techniques can preserve breast skin and allow for a more natural breast appearance following the procedure. This is also known as skin-sparing mastectomy.
Surgery to restore shape to your breast — called breast reconstruction — may be done at the same time as your mastectomy or during a second operation at a later date
Why it's done
A mastectomy is used to remove all breast tissue if you have breast cancer or are at very high risk of developing it. You may have a mastectomy to remove one breast (unilateral mastectomy) or both breasts (bilateral mastectomy).
Mastectomy for breast cancer treatment
A mastectomy may be a treatment option for many types of breast cancer, including:
Ductal carcinoma in situ (DCIS), or noninvasive breast cancer
Stages I and II (early-stage) breast cancer
Stage III (locally advanced) breast cancer — after chemotherapy
Inflammatory breast cancer — after chemotherapy
Paget's disease of the breast
Locally recurrent breast cancer
Mastectomy to prevent breast cancer
You might also consider a mastectomy if you don't have breast cancer, but have a very high risk of developing the disease.
A preventive (prophylactic) or risk-reducing mastectomy involves removing both of your breasts and significantly reduces your risk of developing breast cancer in the future.
A prophylactic mastectomy is reserved for those with a very high risk of breast cancer, which is determined by a strong family history of breast cancer or the presence of certain genetic mutations that increase the risk of breast cancer.
General information
Cost: 1200 – 1400

Anesthesia:   General anesthesia

Hospital stay: 1 day

Duration of operation: 2 hours

Minimum Stay: 10 days
Endoscopy & Colonoscopy
In this section, Upper endoscopy, Colonoscopy, Esophageal stenting, Polypectomy, sampling, balloon, achalasia and Obesity balloon is performed.
The equipment of the ward includes endoscopic and colonoscopic devices Olympus 190 brand, which is currently the latest model with FULL HD images, higher resolutions, extensive image contrast, the ability to observe vascular and intravascular images. In addition, the images are presented in three stages and within a wide viewing angle, so greatly higher quality images are provided compared to the older generations to improve the quality of proper diagnosis.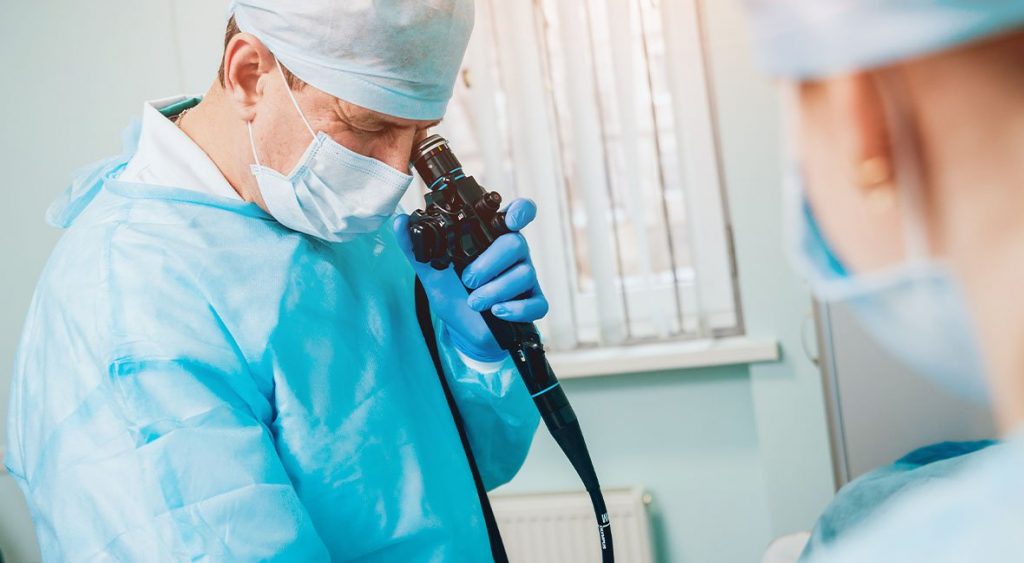 The Intensive Care Unit (ICU)
At Nazeran hospital is on the first floor adjacent to the operation room and the Internal-Surgery ward. This unit provides ongoing specialized services for patients in need of respiratory support, stroke, traumatic brain injury, and all nursing care by resident anesthesiologists as well as experienced nursing experts who have passed the courses of the special ward. The unit consist of 12 beds and 1 isolated bed in separate area. All beds are of the three-crank type with position adjustability for long-term hospitalization
The imaging ward
is located on the -1 floor of Nazeran Hospital and is equipped with the most advanced equipment and devices performing all simple and specialized imaging. The imaging services of the Nazeran hospital are available 24 hours a day.
 All imaging services with anesthesia are performed by a residing anesthesiologist in the ward every day.

Performing all simple and specialized CT scans, ultrasound services, radiography services, intrusion procedures, and etc.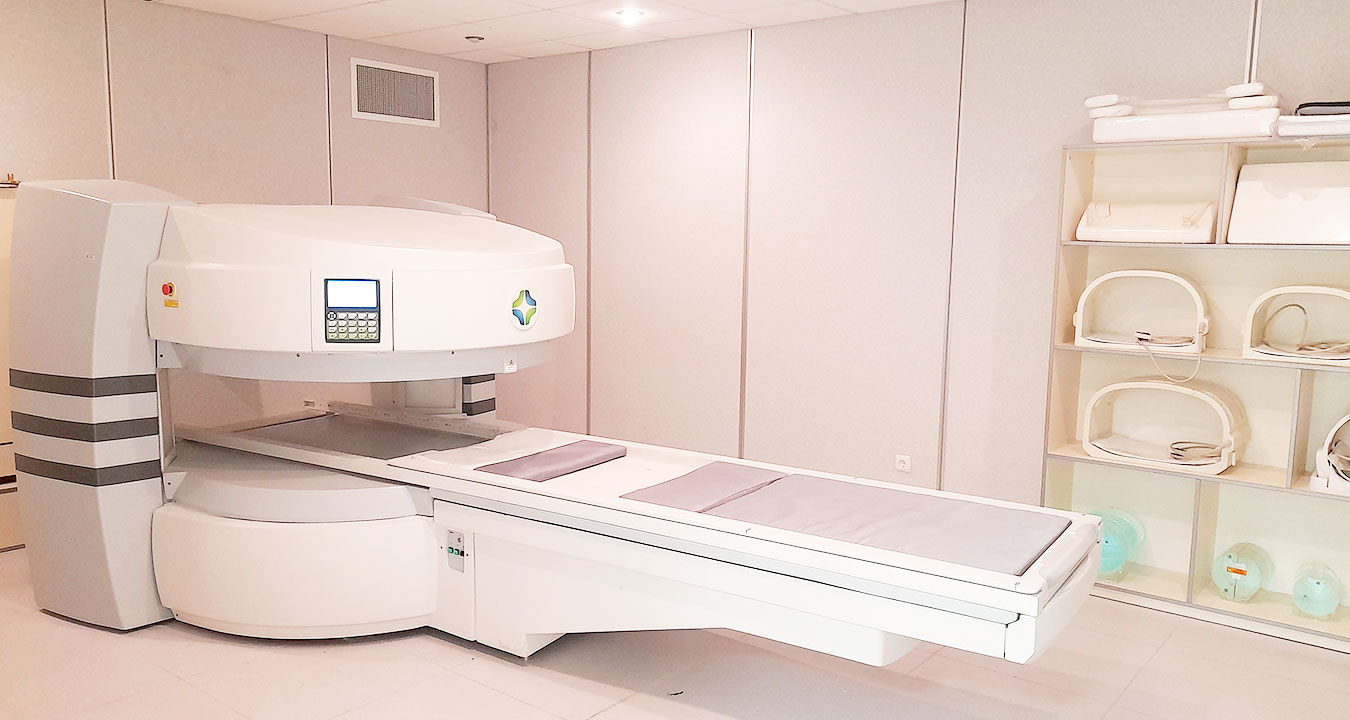 Laboratory
Emergency services for all routine tests, Home sampling of the elderly and disabled, Providing test results online, Check tests (Hematology, Biochemistry, Microbiology, Parasitology, Mycology, Hormoneology, and Serology), Pap smear and spermogram, Pathology (mole sampling, skin lesions, fat mass, and uterine curettage), Tumor markers (for breast, ovarian and prostate cancer screening), Specific diagnostic tests for cancer (I  mmunohistochemical staining), Pre-pregnancy tests and  pregnancy screening, First and second trimester screening test, Corona diagnostic tests (blood) (D-Dimer, LDH, and Ferritin)
The pharmacy of Nazeran Hospital
is in the lobby of hospital adjacent to the specialized clinic. This pharmacy, which is among the most advanced hospital pharmacies, has been active since the establishment of this hospital.
Some of the available services of the pharmacy are listed hereunder.
Supplying drugs for hospital dispensary
Supplying single-prescription medicines
Supplying general instrument consumption
Supplying special instruments on doctors' demands and etc.
Nazeran hospitals' emergency room
is active 24hrs a day and it's prepared to provide necessary services to all emergency and non-emergency patients. In addition, other equipment and facilities of the hospital are on "stand-by "and ready to support if required.
This ward provides it's services with the following equipments: 12 adult beds, Emergency, operation room, CPR room, Isolated rooms, check up room, Intravenous therapy, D.C Shock, Electrocardiograph machines, 2 portable monitors, 13 fixed monitors, Suctions, Plastering, minimal surgery, Injection and dressing rooms, Triage center with independent nurse and secretary equipped with all standard necessities, 1 resident general physicians and 2 emergency medicine in the emergency warm twenty four hours a day, Orthopedic and General Surgeon at nights and even on holidays.
Operating department
is located on the first floor adjacent to ICU and the Internal -Surgery ward and includes the following sections: 5 equipped surgery rooms using novel and well-established methods for patients who require different types of treatment and diagnostic surgeries such as: Orthopedic, Urology, general surgeries with open, advanced, or Laparoscopic methods, brain and neurosurgeries, Laparotomy, Rhinoplasty, E.N.T (ear, nose, throat) surgeries. Thorax surgery are admitted and treated.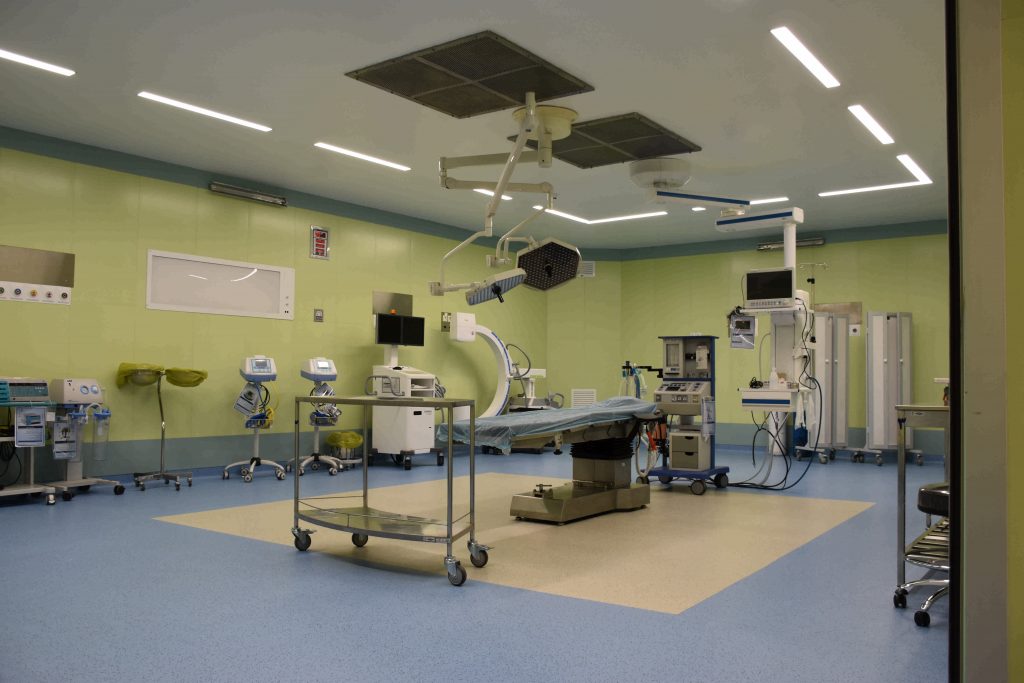 The Supervisors' Clinic
is located on the ground floor of the hospital. The specialized clinic visits and treats patients with specialist physicians and surgeons. The use of experienced specialists in the specialized clinic of Nazeran Hospital is one of the advantages of this clinic.
It also includes Hematologist, Radiotherapist and Oncologist, General Surgeon, Internal Medicine, Gastroenterologist, Obstetrician, Anesthesiologist, Cardiologist, Diabetes Clinic, Wound and Ostomy Clinic, Pediatrician.